Tracy Flower's Interesting Article About MRD1 Tests.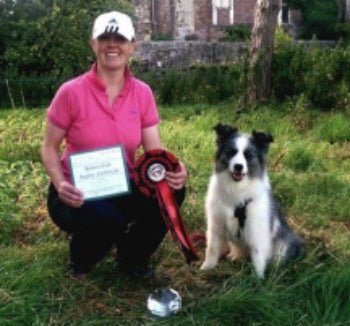 Introducing Tracy Flower
Tracy has successfully competed in agility for 19 years & also has previously competed in Working Trails with her now departed dog Bronte.  In 2014 she had a fantastic year competing and achieved the goals she set herself at the beginning of the year. (Ed. Goal-setting, something we could all adopt!)
There is definitely a theme to Tracy's agility dogs.  She currently has three competing merlie girlies with nice girly names beginning with 'B' & Tracy herself always wears her trademark pink at shows.
Barbie the 8 year old won her first Champ class in July so qualified for Crufts 2015 & will also appear in the Crufts Singles (Large) class that features the top 16 qualifying dogs in the country. Ballet, now 5 years old, also qualified for the Crufts Singles (Medium) and for the British Open (Medium) at Crufts 2015 against very stiff competition at the KCIF; she also gained her reserve ticket at Champ level at Dogs in Need in August. The baby of the family Bikini is two and gained her first two agility wins in September at Southdowns Show in Grade 3 Jumping and Agility. At Gillingham Bikini gained a second place on a very testing grade 3-5 agility course, I remember running it myself.  As a result of the wins Bikini goes from Grade 3 to Grade 4 & no doubt will soon join her 'sisters' at the higher levels.
"I have been giving Ace Canine Flex Granules to my three agility dogs, Barbie, Ballet and Bikini for a few years now. I am really thrilled with how well, fit and healthy they are and also with their agility performances."
MDR-1 Gene (Multi Drug Resistant-1 Gene)
Some of you may already know that there is a gene disorder that affects many herding breeds such as Border Collies and Shelties which means they shouldn't have worming tablets containing Ivermectin.
If you have a herding breed dog you may think that you will just avoid those wormers and perhaps use something different. However, what you may not realise, is that there are many other drugs (including anaesthetic drugs) that are also a problem in dogs affected by or carriers of the mutant gene.  
It is possible, through an easy cheek swab DNA test, to find out if your dog is Clear, a Carrier or Affected by the gene mutation.  I recently did this for my youngest collie, Bikini after one of her litter mates died at 2 years old after a routine spay. My vet suggested I have her tested in case this was a factor in what happened
Bikini tested Clear and I'm very relieved about it. I plan on doing the other girls too now.
I used the service provided by Animal Health Trust (AHT). It cost me £60 and I did the ordering of the test kit online and then posted it back to them.  I received the results 6 days later by email.  There are other labs that also provide this service or you can go to your vets for a blood test if you prefer.
Recently the Kennel Club started a database of results of dogs tested for this gene defect. This will help breeders choose a suitable sire/dam for mating so that fewer pups that are affected or carriers are born in the future.
There is lots more information available on the Internet on this subject, I've just given a brief out-line here.