Dog beds For The Elderly - Magnetic or Orthopaedic?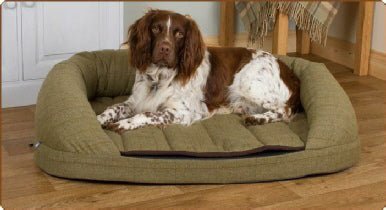 Last week we had a completely off topic email from one of our customers. This gentleman buys Flex Sprinkle for his Golden Retrievers but was asking for recommendations as to suitable beds for his increasingly elderly dogs.
Interesting subject & one we've enjoyed looking into – the question posed was which was better for creaking joints, magnetic or orthopaedic.
In a nutshell then we could find no scientific research to show that magnetism actually works – but of course there's plenty of anecdotal evidence to say it does. As we base our product range on scientific research we'd apply that logic to this question.
Our own dogs, Border Collies, have the raised platform beds to which we can add a layer of vet bed if necessary. Then there are companies that specialise in orthopaedic dog beds & we've learned (thanks to this query) that there is one near us that looks interesting. A cheaper solution might be to buy offcuts of memory foam & make (or have made) your own covers for ease of washing, a consideration if old age comes hand in hand with slight incontinence!
Based on what I've learned I should be looking into a new mattress for my own bed ………….