Saints Sled Dog Rescue – Frosty's Story.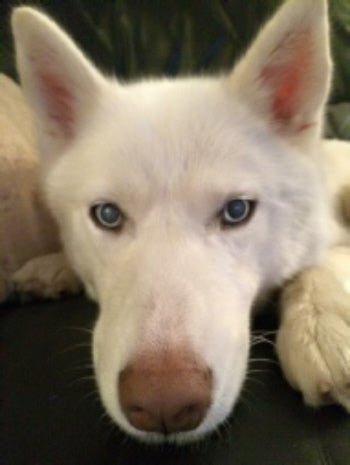 Frosty,  a two year old Siberian Husky, sadly has a problem with her eyes. As you can see from her picture she is showing the typical cloudiness of immature cataracts.
Not down to hereditary factors or age in this case – Frosty is diabetic , a condition that makes all breeds of dog  prone to cataracts.
If the condition isn't treated then Frosty will become progressively blind. We are sponsoring Saints Sled Dog Rescue with a supply of our Clarifye eye drops to help Frosty cope and hopefully prevent further deterioration.
As Michael Mettam of SSDR pointed out this  would aid her chances in getting a new home as they have now (after much trial and error) got her diabetes under control and would love to help her regain her eye sight?
Saints Sled Dog Rescue is a nationwide, voluntary run non-profit charity . their aim is to help as many unwanted and stray Siberian Huskies and Alaskan Malamutes as possible through the process of fostering and re-homing, or simply supporting their owners with help and advice. They also arrange and carry out educational visits across the country, including working and handling demonstrations.
Visit their website www.saintssleddogrescue.co.uk  to see and learn more about these fabulous dogs.